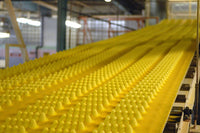 Nine Things You Didn't Know About Your Easter Candy
It takes just six seconds to create the popular Marshmallow Peep. When it first debuted in 1953, it took 27 hours to hand-create each edible yellow chick. But now Peeps get cranked out of machines at 3,500 per minute and four million per day.

Peeps don't have any fat, but watch out for the sugar rush. Each Peep packs in 32 calories and eight grams of sugar. While yellow remains the most popular of the best-selling, non-chocolate Easter treats (which now come in a variety of shapes and sizes), pink, lavender, blue and white have people popping Peeps too.

Cradled in a shell of milk chocolate, the Cadbury Crème Egg filling is actually a mix of white and yellow fondant — simply sugar and water beaten into a crème. Since the first egg was made in the 1920s, new varieties include fillings of caramel, chocolate and mint.
Originally sold by color, jelly beans were the first candy to ever be sold by weight. They gained their Easter popularity in the 1930s behind a marketing push that pitched the beans' resemblance to an egg. The most popular color remains red to this day.

A Cadbury Crème Egg in North America differs from the native egg of the U.K., where it was first hatched. In England, eggs weigh 40 grams. In the U.S., where Hershey's has the rights to them, they dropped six grams to 34 grams of weight. Don't fret, each egg still holds 150 calories and five grams of fat.
When you think of Easter candy, think jelly beans. Americans pop 16 billion little chewy, sugary concoctions every Easter. Created in the 17th century and then refined thereafter, the jelly bean took rise in the U.S. when Boston candy maker William Schrafft marketed them heavily to Union soldiers during the Civil War.
While not as well-known at Easter as Halloween, even candy corn has created an Easter following judging by its nine billion pieces made each year. Originally produced seasonally because the handmade process was so time-consuming, a candy corn is a mixture of sugar, corn syrup, fondant and marshmallow, among other items, mixed together and then cooled in a mold. Each of the tri-color corns requires a different colored mixture to create.

Forget the Peeps and the Cadbury eggs (just for a minute, anyway). The National Confectioners Association says kids reach for chocolate Easter bunnies before anything else on Easter day. And once there, 76% of you eat the ears first. 
That flimsy basket and fake grass actually have meaning. To celebrate the conclusion of Lent, tradition was to bring a hefty basket to church on Easter filled with the ingredients for a large Easter supper. The grass gets credited to Dutch children and their tradition of delivering eggs in bird's nests. Now, we get fake grass and baskets filled with candy.